Hi everyone and welcome to our December newsletter.

In this issue we have:
---
Software Updates - Ostendo Update 232
Development-X released Update 231 to Consulting Partners last week in BETA. We are expecting a full release from Development-X on Monday 18th December.
This update will contain:
Tyro EFTPOS Integration with POS
Enhancements to Freeway's B2B functionality
Multiple Units of Measure in Freeway Sales Ordes
Integration with Reckon Hosted
Integration with QBO (Intuit Quickbooks Online)
Servicing multiple assets in one job
This update has being delayed to allow Tyro to approve the payment gateway integration with Ostendo.
---
Single Touch Payroll
Last month we provided an update on what to expect from the ATO regarding Single Touch Payroll (STP). We now have a fact sheet available for download.
---
Custom Solutions
Freeway Inquiry
This month we would like to shine a spotlight onto Freeway Inquiries. Freeway Inquiries can be used to report any data within Ostendo and in many cases are faster than running the same inquiry and rendering within Ostendo. Below is an example of how we took the existing Operations Centre KPI's and applied them to a Freeway Inquiry, handy for sales people to run on their tablets during meetings with their customer.

As an idea, you could expand on this and add a List element to the bottom of the inquiry and display Unpaid Invoices and Unapplied Payments.

Another option might be to only display the List element and provide the Freeway inquiry to your customers as an alternative to sending Statements.

Contact our support team if you would like to learn more or click on the image to watch our video of a webinar Michael did earlier in the year.
---
Please remember requests sent directly to staff's e-mail addresses are not covered by our Support service level agreement (SLA). There is always a minimum of one team member monitoring tickets when they are logged into our system via softwaresupport@cutcher.com.au

Support Tips for the Month
Freeway - when making changes to Mobility settings, templates or specific employee settings, you must run an update with Re-initialize Data selected
Freeway - API connection error - click on menu in top right hand corner and select diagnostics. If this fails and your using WiFi, restart the device as this typically fixes most connectivity issues. Alternatively restart the API service on the server.
F4 Shortcut key - pressing F4 in any Blob field within Ostendo will enter the date, time and user e.g [8/12/2017 2:57:05 PM - MICHAEL]


Email Ransomware - Once again we would like to stress to all business owners the need to educate your staff to not open emails that seem to good to be true or temping you to believe you need to reset an account, pay something or login via a link. Banks, Aust Post, Utility Providers will typically not send you links within emails. If you think it is legitimate then hover your mouse over the link before clicking to review the domain or better still, ignore the link and login via your web browser's saved bookmark. Always delete if in doubt.


Order Scripts - these can be used to add extra TABS within any Order Lines Screen to provide extra information about the line you are entering such as receipt costs or previous sales margins.
---
Laser Wizard Innovation Awards 2017
Last month we were invited to attend Laser Wizards' Innovation awards night held at Western Sydney University. The awards night is a partnership between Laser Wizard and Western Sydney University, challenging students to develop ground breaking sustainable products for the home in the fields of Engineering incorporating Civil, Construction, Electrical, Mechanical, Robotics & Mechatronics Industrial Design, Computing and Construction Management. Read More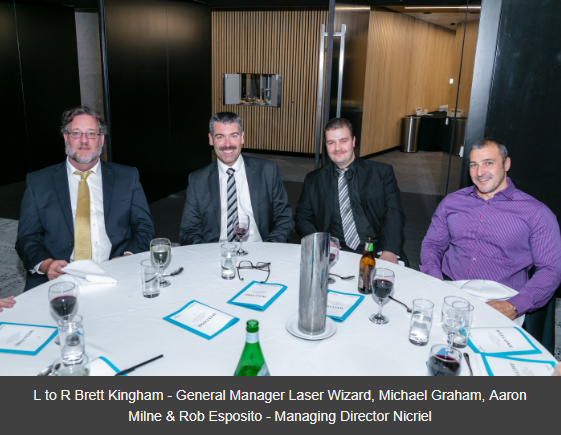 ---
Christmas Closure
Our office will be closed from 11am Friday 22 December and re-open 8am Tuesday 2 January. Please log any Urgent support via email using softwaresupport@cutcher.com.au. Note: please only log support tickets during this period if the situation is preventing you from working.
---
A quick thank you to everyone who donated to Aaron and Michael for Movember. Together they raised $412.00. The Cutcher & Neale team managed to raise $5,981.00 which is an awesome effort. As you can see from the photo above, the boys managed to grow respectable moustaches.

Untill next month, if you have any questions, concerns or need any advice, please don't hesitate to contact us.

Your dedicated Cutcher & Neale Software Team
Michael, Aaron, Michelle, Hannah and Steve